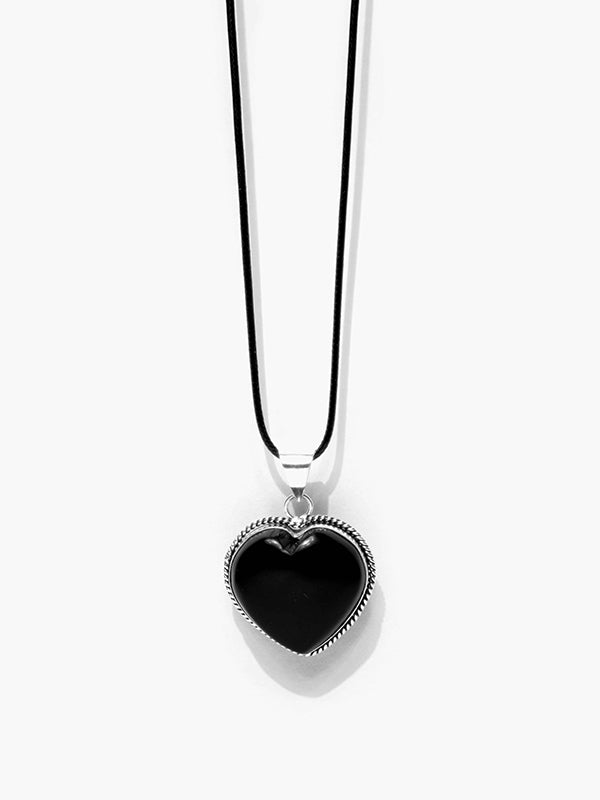 Black Onyx Heart Necklace
Translation missing: en.products.product.price.regular_price
Rs. 899.00
Translation missing: en.products.product.price.sale_price
Rs. 899.00
Translation missing: en.products.product.price.regular_price
Tax included.
Gemstone Name : Natural Black Onyx
Pendant Height : 1.5" to 2.5" (Inch)
Material : 925 sterling silver plated



About Gemstone

The Black Onyx is also a mysterious crystal which guides you in your spiritual journey bringing the hope of light in the tunnel of darkness. It is a powerful stone that protects the mind and the body from the negative fields that drain that carriers' energy resulting in a positive emotional and physical well-being.

The Black Onyx Meaning was also called the "Fingernail Stone" by the Greeks. According to the Legend, the onyx stone was honoured by the Goddess Venus when her nails were cut by Cupid while she was sleeping.
Day-to-day Care

To preserve the polish of your sterling silver jewellery, avoid exposure to household cleaning products, bleach and other strong chemicals. We recommend that you store your silver jewellery in air tight pouch for safekeeping



How to Clean Silver Jewellery

1. Apply a small amount of silver jewellery cleaner to a soft cloth.

2. Gently run the silver with cloth several times.

3. Rinse the silver thoroughly in warm water.

4. Blot dry and shine your silver with polishing cloth. This will remove the tarnish and restore shine.
The product is usually shipped to you within 7-10 days after order is confirmed.

This product is not eligible for return/exchange. However, incase a damaged/wrong product is received, you can contact us and we shall offer you our complete assistance.
Black Onyx Heart Necklace
Translation missing: en.products.product.price.regular_price
Rs. 899.00
Translation missing: en.products.product.price.sale_price
Rs. 899.00
Translation missing: en.products.product.price.regular_price